Click on the arrow above for a video interview with Dolores by Red Mountain Theatre Company.
Click here for a description of some favorite story options for your group or special event.
Click here to check the calendar for Dolores' story concerts and theatre performances.
Click here for information about Dolores' award-winning story CDs.
Or get more information in person!
Contact Dolores at

205-951-7757
or

dolores@storypower.org
Featured Teller, National Storytelling Festival, Jonesborough, TN, and many other storytelling festivals

Teller-in-Residence, International Storytelling Center, Jonesborough, TN

Award Winner for Storytelling Recordings, Storytelling World Magazine

Outstanding Actress, Birmingham Festival Theatre

Artist Fellowship Winner, The Alabama State Council on the Arts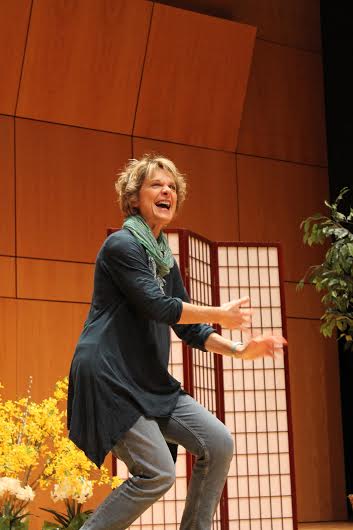 Click here for video samples of some of Dolores' favorite stories.
What's coming up? Click here for a complete calendar of Dolores' upcoming story and theatre events.
A Sweet Strangeness Thrills My Heart:
Sallie Independence Foster, 1861 - 1887
Tuesday, October 29; 6:30 - 8:30 p.m.
Snead State Community College
Fielder Auditorium, Boaz, AL
A free event; all are welcome to attend!
Sallie Independence Foster was 12 years old and living in Florence, Alabama in 1861 when the War Between the States began. She was keeping a diary at the time, and kept on keeping a diary for 26 years. In this performance, storyteller Dolores Hydock and music historian Bobby Horton interweave Sallie's diary entries with camp songs, popular tunes of the times, and original melodies to tell a funny, touching, and uniquely personal true story of a world of innocence turned upside-down. Click here for a video sampler of the show.
Coming up: Unusual stories of two strong women...
Taking Sides:
A new look at the life of
Audrey Williams
Audrey Sheppard walked away from the red clay fields of Pike County and became half of one of the most famous couples in country music history when she married Hank Williams. Her life -- like her story -- is a controversial one. Are there really two sides to every story -- even hers?
Can the two sides be opposite and still both be true?
This new story lets you decide: Whose side are you on?
Sunday, November 10; 2 - 3:30 p.m.
Black Box Theatre
105 West College St., Columbiana, AL
Tickets: $25 / $30;
click here for reservations