Click on the arrow above for a video interview with Dolores by Red Mountain Theatre Company.
Click here for a description of some favorite story options for your group or special event.
Click here to check the calendar for Dolores' story concerts and theatre performances.
Click here for information about Dolores' award-winning story CDs.
Or get more information in person!
Contact Dolores at

205-951-7757
or

dolores@storypower.org
Featured Teller, National Storytelling Festival, Jonesborough, TN, and many other storytelling festivals

Teller-in-Residence, International Storytelling Center, Jonesborough, TN

Award Winner for Storytelling Recordings, Storytelling World Magazine

Outstanding Actress, Birmingham Festival Theatre

Artist Fellowship Winner, The Alabama State Council on the Arts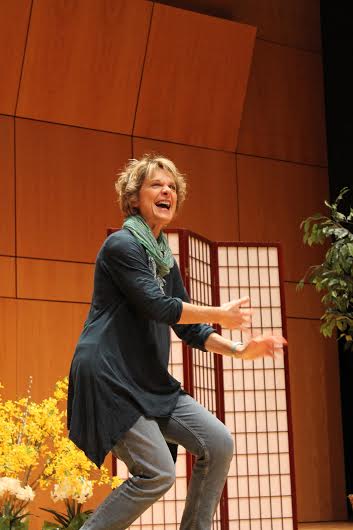 Click here for video samples of some of Dolores' favorite stories.
What's coming up? Click here for a complete calendar of Dolores' upcoming story and theatre events.
Eglamore and Cristobel ~
A love story
In Her Own Fashion
Thursday, August 8th, 7 - 9 p.m.
Hoover Library Theatre
Tickets are $20, and can be ordered online here
A voice of silk and chiffon…
A spirit of brass and iron...
A woman who was 95 years old and ready to tell all!
In Her Own Fashion tells the funny, irreverent, true story of Ninette Griffith, who was Fashion Coordinator for Loveman's Department Store in Birmingham, Alabama during the 1950s and 1960s, a time when the downtown department store was a temple of style and fashion. Smart, sassy, ambitious, and unflinchingly honest, Ninette was an elegantly independent woman whose life unfolds in these stories of reckless romance, celebrity hi-jinks, fashion disasters, and the adventures of a life cut from a pattern of her own design.