Click on the arrow above for a video interview with Dolores by Red Mountain Theatre Company.
Click here for a description of some favorite story options for your group or special event.
Click here to check the calendar for Dolores' story concerts and theatre performances.
Click here for information about Dolores' award-winning story CDs.
Or get more information in person!
Contact Dolores at

205-951-7757
or

dolores@storypower.org
Featured Teller, National Storytelling Festival, Jonesborough, TN, and many other storytelling festivals

Teller-in-Residence, International Storytelling Center, Jonesborough, TN

Award Winner for Storytelling Recordings, Storytelling World Magazine

Outstanding Actress, Birmingham Festival Theatre

Artist Fellowship Winner, The Alabama State Council on the Arts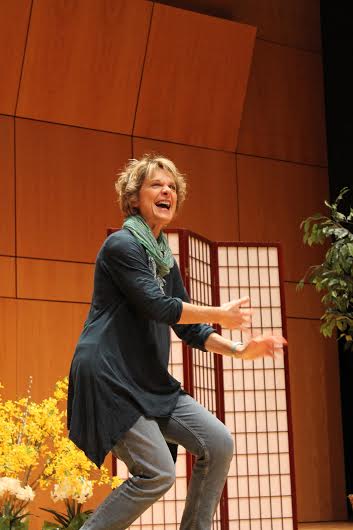 Click here for video samples of some of Dolores' favorite stories.
What's coming up?
Click here for a complete calendar of Dolores' upcoming story and theatre events.
Coming up:
Two chances to "Jingle All the Way"
with Dolores and Bobby Horton!
Alabama's Bicentennial year comes to a close with Christmas stories from two of Alabama's most beloved world-famous writers and storytellers:
Kathryn Tucker Windham and Truman Capote.
There will also be the always-requested The Twelve Days of Christmas, letters to Santa that show kids are no different now than they were 100 years ago, a new Christmas story, gorgeous traditional tunes, and jolly
sing-alongs to jump-start your holiday season!
Join us at the Homewood Library on Friday, December 6th or at Columbiana's gorgeous new Arts Council theatre on Sunday, December 8th.
Click here for full details!
Friday, December 6; 6:30 - 9 p.m.
Homewood Library Auditorium
1721 Oxmoor Road, Homewood, AL
Tickets: $25,
includes an hors d'oeuvres buffet
starting at 6:30
click here for reservations
Sunday, December 8; 2 - 3:30 p.m.
Black Box Theatre
105 West College St., Columbiana, AL
Tickets: $25 / $30;
click here for reservations
Jingle All The Way - Bicentennial Edition!
Songs, stories, and sing-alongs ...
with stories from Dolores and music by Bobby Horton