A Sweet Strangeness Thrills My Heart ~ The World of Sallie Independence Foster, 1861 - 1887
Sallie Independence Foster was 12 years old and living in Florence, Alabama in 1861 when the War Between the States began. She was keeping a diary at the time, and kept on keeping a diary for 26 years. This performance, based on Sallie's diaries, papers, and letters from her brothers off at war, presents a funny, touching, and uniquely personal look at the life and times that Sallie shared with her paper "dear Companion."
Storyteller Dolores Hydock and music historian Bobby Horton interweave Sallie's story with camp songs, period favorites, and original tunes to create a poignant, powerful, humorous, and honest picture of a world of innocence turned upside-down.

Click on the arrow at right to see a sampler from A Sweet Strangeness Thrills My Heart, recorded at the Dauphin Island Storytelling Festival in Dauphin Island, Alabama (courtesy of the Dauphin Island Heritage and Arts Council)

Click here for an artsBHAM review
of a performance of A Sweet Strangeness Thrills My Heart
at Red Mountain Cabaret Theatre.
Sallie's diaries and other papers are now in the safekeeping of the Archives of the University of North Alabama, thanks to the generosity of Sallie's great-grandson Jim McDonald and great-granddaughter Flora Speed (shown at right with Dolores).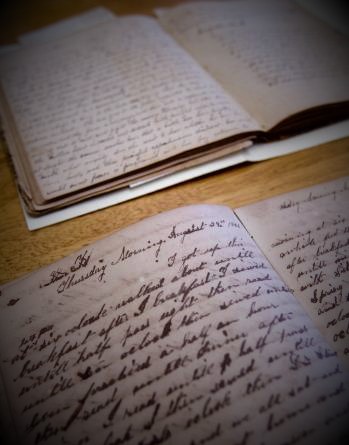 Bobby Horton and Dolores have collaborated on another show that brings history to life -- Starch in Their Petticoats: True Stories of Strong Women Who Settled the West. You can find a description of this performance on the stories: all sorts page of this site.
They also perform together in a holiday show called Jingle All the Way: Stories, Songs, and Sing-a-Longs for the Holidays.
Bobby Horton is a multi-instrumentalist, composer, producer, and music historian. He is perhaps most identified as part of Three on a String, a bluegrass comedy act that has been playing to packed houses across the country and around the world for more than 40 years. But his career is as diverse as his musical talent.
He has earned a national reputation for historic music, writing scores and playing for dozens of documentary films, most notably 17 documentaries for Academy Award nominee and Emmy Award winning director and producer Ken Burns, including The Civil War, Lewis and Clark, and Baseball. Horton's historic music also is featured in films shown in national parks across the U.S. His series of recordings of authentic period music has been acclaimed by historical organizations and publications through the U.S. and Europe.

Bobby is a recipient of the 2013 Alabama Humanities Award for outstanding contribution to the arts in Alabama.
For more information about Bobby Horton's work as a musician, music historian, and composer, visit www.bobbyhorton.com