In Her Own Fashion
Stories of fashion disasters, celebrity quirks, reckless romance, and a life that followed no one else's pattern. Stories collected from Ninette Griffith (shown above at age 95) and told by Dolores Hydock.
"Remarkable ... a spectacular one-woman show..."
Click here for Alec Harvey's 5-star review in The Birmingham News.
Click on the arrow at right for an excerpt from the full-length story-play,
recorded at a live performance at the
Terrific New Theatre in Birmingham, AL.
"They finally let me out of the basement."
So begins the true story of Ninette Griffith, a 96-year-old Birmingham native with a silk-and-chiffon Southern accent and a brass-and-iron spirit. Funny, irreverent, ambitious, and unflinchingly honest, this elegantly independent woman lived a life that followed no one else's pattern, a life that unfolds in these stories of reckless romance, celebrity hi-jinks, fashion disasters, and heartbreaking loss.
Ninette Griffith was Fashion Coordinator for Loveman's Department Store in Birmingham, Alabama in the 1950s and 1960s — a time when the downtown department store was a temple of style and fashion, and Loveman's was one of the biggest, most influential stores in the Southeast. It was also a time when not many women had a full-time, high-profile job, a husband in the military, and a child at home, but Ninette juggled it all. "I didn't know I couldn't do it, so I did it."
But Ninette's story goes far beyond her career. Born in 1913, she was witness to the 20th century in the South, and her stories span the lively times of the 1920s, the dark days of the Depression, the war years of the 1940s and 1950s, and the social upheavals of the 1960s.They include tales of an eyebrow-raising love affair, hilarious blunders at home and at work, and the triumph of humor and spirit over mistakes, pride, disappointment, and loss.
Actress and storyteller Dolores Hydock collected Ninette's stories during a series of interviews over 18 months. Now, Dolores brings these funny, tender, surprising stories to life on the stage in this remarkable one-woman play, In Her Own Fashion. Yvette Jones-Smedley, Performing Arts Program Manager for the Alabama State Council on the Arts, called it "...an exquisite evening of theatre."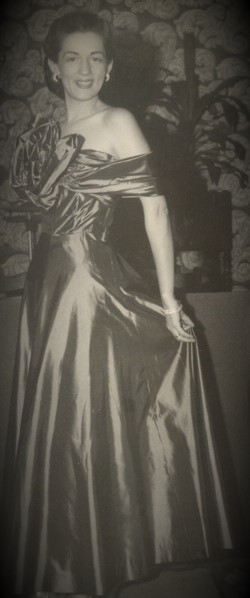 Ninette designed the "Pokey Pants," shown at left, in the 1950s. It was a radical idea: jeans made to fit a woman. The jeans were made by the Liberty Trouser Company in Birmingham, sold at exclusive stores throughout the Southeast, and made enough profit to fund four scholarships for women at the University of Montevallo before the Korean War took all the denim away.
And she did it, as she said, "Before Calvin Klein was born."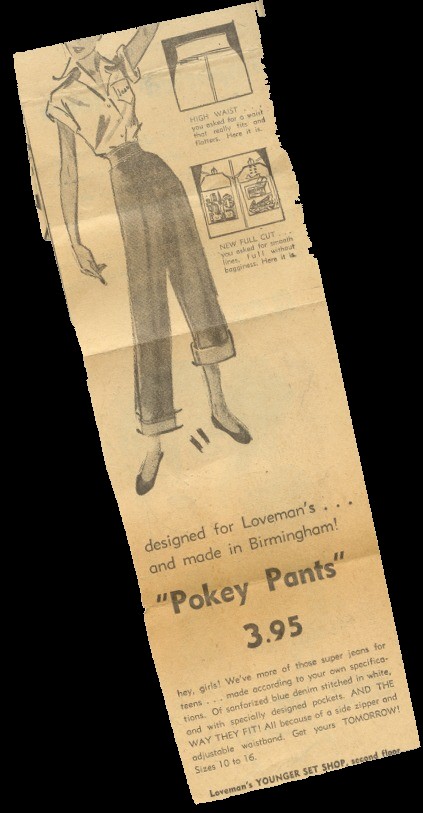 Ninette taught classes in high schools all over town, teaching young women about
clothing care, makeup tips, etiquette, and dating advice:
"For some boys, a kiss is an appetizer, so don't serve it if you don't intend to serve the whole meal."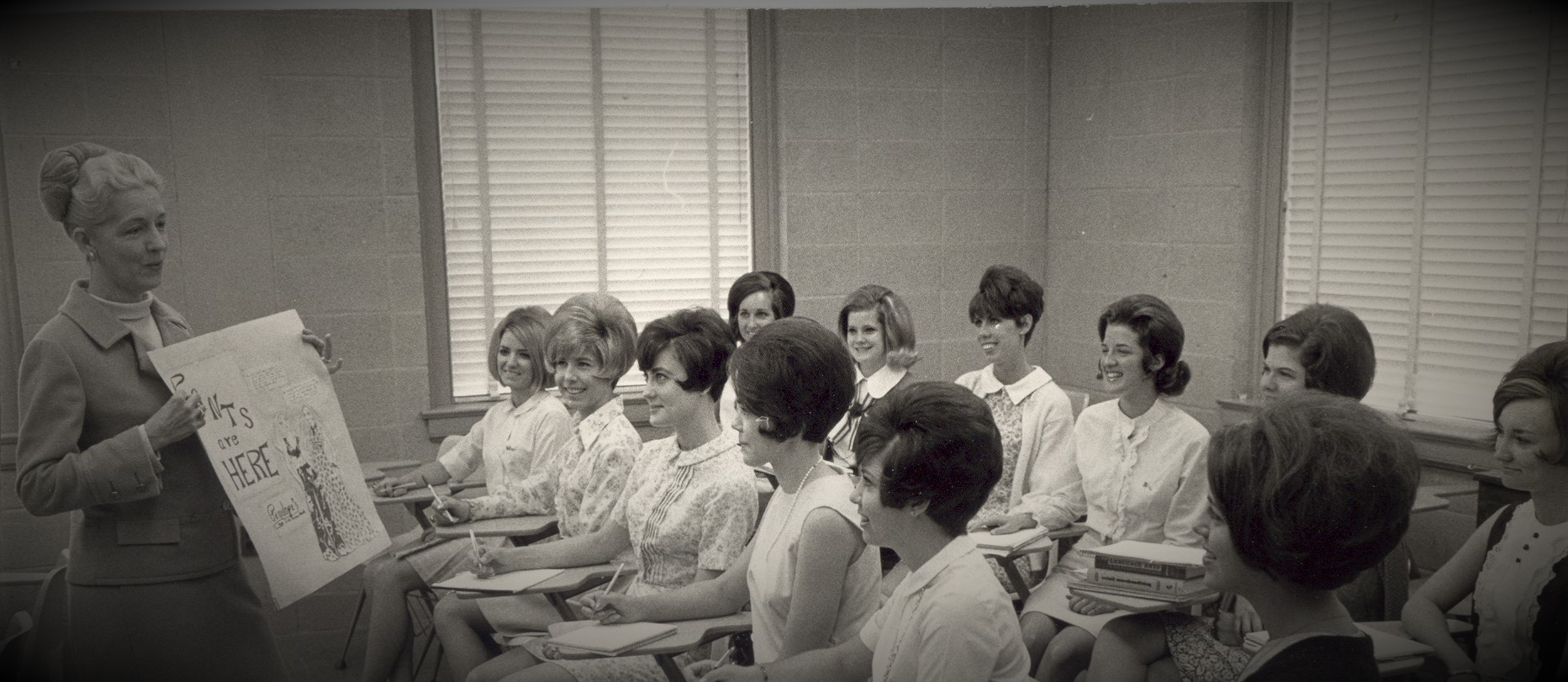 May 6, 7, 8, and 9
Live! In person! NOT online! NOT on Zoom!!
The Red Door Theatre of Bullock County begins its 2021 season with In Her Own Fashion, a funny, irreverent, true story.
This show will be performed live at a large indoor facility at Dream Field Farms, 13 miles west of Union Springs, AL on Highway 82 (about a two-hour drive from Birmingham). There's plenty of room for everyone to be socially distanced.
The Red Door Theatre is part of the Tourism Council of Bullock County. Performances used to be at a location in Union Springs, Alabama, but the need for social distancing has moved the productions to a large indoor venue at Dream Field Farms. On Thursday, Friday, and Saturday evening, May 6, 7, and 8, there is an optional catered dinner at 6:30 p.m., with the show to follow at 7:30 p.m. The matinee on Sunday, May 9th, at 2:30 p.m. has just the show, with no meal option beforehand. You can come for the meal and the show ($35 / ticket) or you can get a ticket for just the show ($20 / ticket). Reservations are essential; for tickets, call the Bullock County Tourism Office at 334-738-8687.