the making of Silence: The Adventure of a Medieval Warrior Woman
Hydock Does Battle with Medieval Text for 'Silence'
-- Mary Colurso, music and arts columnist, The Birmingham News


Ladybugs on the crown molding of Dolores Hydock's house in Irondale have heard the story of "Silence" many times. The pomegranate tree near her patio and the muscadine vines in the back yard have heard it, too.
Hydock, a writer, storyteller and actress, has been developing her new performance piece for about two years, adapting a little-known tale from the 13th century into a 90-minute evening of theater. "I'd write some, tell some. Write some, tell some," she says.
Audiences who watch her slip into the character of a grumpy crone, the plain-spoken and opinionated narrator, will very likely be caught up in the adventures of Silence, a brave and beautiful girl pretending to be a boy so she can one day claim her inheritance.
They'll hear of battling knights and jealous minstrels, lustful queens and elusive wizards. If all goes well, Hydock says, modernity will melt away as she relocates her listeners to a drafty castle in England, building the medieval world brick by brick, word by word. In that task, she'll be aided by PanHarmonium, a trio of players from Birmingham that specializes in recreating ancient music.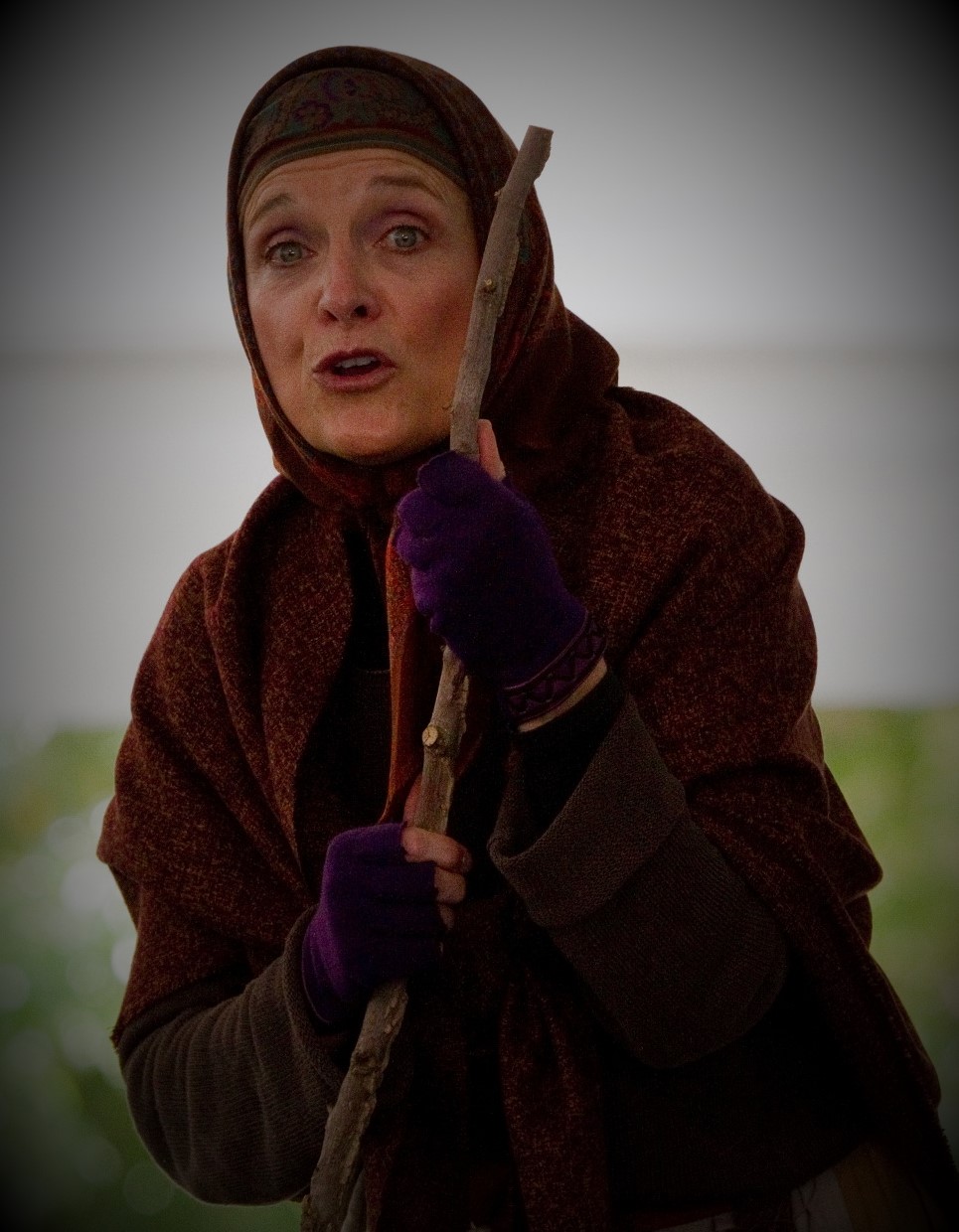 "The music adds so much to creating a context for the story, a setting for the story," Hydock says. "You hear the harp and recorder on the opening song, and those two minutes of music slowly begin to edge you back, century by century." But what seems nearly effortless on stage - the recitation of a lively and absorbing story, supported by period songs and instrumentals - actually has required much effort.
Those spotted red beetles on the walls of Hydock's place know, because they've watched her reading, editing and working at the computer. Also, while planting, pruning and otherwise tending the garden she loves, Hydock has shaped "Silence" by telling it to herself, out loud, over and over.
If the neighbors think she's crazy, talking animatedly into the air while wearing a wide-brimmed sun hat, Hydock doesn't mind. Art requires a few sacrifices, and she's willing to make them.
Hence, all those hours Hydock has spent pondering ways to turn a thick text - an academic translation of French poetry, no less - into something lighter, tighter, brighter and more theatrical. With the help of Gilbert Ritchie, Susan Marchant and David Cantrell of PanHarmonium, she believes she has succeeded.
Gilbert Ritchie, Susan Marchant, and David Cantrell -- the musicians of PanHarmonium
But when Hydock discusses the evolution of "Silence," her sentences contain phrases like "struggling hard" and "sweating bullets." She is grateful, she says, for a fellowship from the Alabama State Council on the Arts that allowed her to devote time to the project, and add "Silence" to other performance pieces in her repertoire. Professionally speaking, Hydock can mix, match and tell about 65 stories - and does so frequently at theaters, colleges, businesses, libraries, churches and community gatherings.
Typically, her tales are grouped into thematic programs with titles such as "Holidazed! A Story Tour of the Holiday Calendar," "Made From Scratch and Other Accidental Stories," or "Momorabilia: Stories About Mothers."
Hydock has recorded several of these stories on four spoken-word CDs she sells at shows and bookstores, as well as through her web site at www.storypower.org. She'll sign copies of "Silence," her latest disc, and present an excerpt from it, from 6 to 8 p.m. Monday at The Alabama Booksmith in Homewood. Of necessity, that performance will be short, clocking in around 10 minutes. But even a full, in-concert telling of "Silence" zips along for her, Hydock says, despite the program's official length of 63:22, plus intermission. "It goes by in a minute," she says, "particularly if the audience is into it."
During a recent appearance at the UAB Honors House, for example, Hydock was delighted to hear a woman in the front row gasping at every twist and turn of "Silence." The building pleased her almost as much: a beautiful old church equipped with spotlights that cast giant shadows of Hydock in costume as the crone.
The crotchety character's attire includes a stout wooden staff with a ring of colored stones and a claw at the top, clutching a mysterious off-white globe. It's her story stick, Hydock says, designed for leaning, pointing and poking into other people's business.
"The woman who tells this story is so much fun to be," she says. "I imagine her as a person in the background, who sees all but isn't allowed an official voice at court. You might think: How does she know all this? Maybe she hung out in the kitchen in the palace."
Hydock and PanHarmonium have inserted themselves into a courtly setting before, teaming for adaptations of "Sir Gawain and the Green Knight" and "The Juggler of Notre Dame."
Teenagers - "Lord of the Rings" fans, no doubt - have been surprisingly enthusiastic about these stories, and some adults have no qualms about being transported into a realm of kings and queens, dragons and peasants. Hydock realizes she may never convince other folks to accept the idea that 600-year-old literature can sound fresh, exciting or relevant, but she's determined to give it a try.
"They get worried," she says, "thinking, 'I have to be good. I have to sit still and be quiet.' But there was danger and violence and sex in the medieval world. Life was severe. And these were very earthy people. They had to populate the 14th century somehow."